Save Up To 45% On IVF Cycles Savings on Egg Freezing and IUI
We offer high quality fertility treatments at a lower cost. Book a virtual or in person consultation with awarded OC TOP Fertility Doctor 2020 & 2021.
Save Up To 45% On IVF Cycles
Savings on Egg Freezing and IUI
We offer high quality fertility treatments at a lower cost. Book a virtual or in person consultation with awarded OC TOP Fertility Doctor 2020 & 2021.
Today, I'm 21.5 weeks pregnant with a healthy baby boy. My husband and I can't thank Dr. Rosencrantz and his team enough (especially Nurses Lauren and Cindy!) for helping us start our family.
Sign Up and Save More on IVF Cycles, IUI, and Egg Freezing
If you are struggling with your fertility and don't know where to turn, let us help you.  We offer exceptional patient care in a boutique practice setting with truly affordable prices.  
Our patients see their board certified fertility doctor every visit and receive the most comprehensive fertility treatments in Orange County, California because we combine state-of-the-art medical science and a brand new IVF laboratory with acupuncture, nutrition, therapy, and more.
Reproductive Health and Wellness Center is proud to display our most updated IVF success rates including fertilization rates with ICSI, Embryo development in the laboratory, Positive pregnancy tests after frozen embryo transfer, and Ongoing pregnancy rates. This is the result of our double board-certified doctor, our experienced Embryology lab director, Antoine La, and senior embryologist, Kelly Dunn, the rest of our incredible RHWC team, and of course our amazing patients all working together to reach a common goal.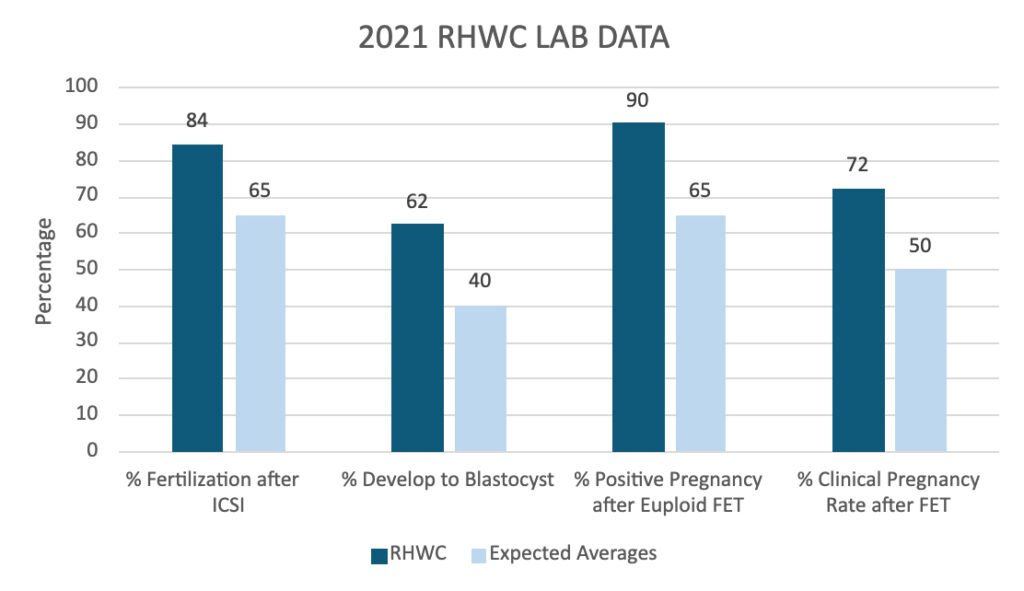 Fertility Treatment Options
What Our Happy Patience Are Saying
An amazing experience that exceeded my expectations! I came to Dr. Rosencrantz to explore my options with egg freezing. Though my career as an athlete prevents me from having children right now, having a family is very important to me. The staff and facility made me feel completely at ease. The facility is modern and has a safe feel that really makes you feel comfortable.
Dr. Rosencrantz and the team at Reproductive Health and Wellness are patient and clearly walk you through a challenging and emotional process. Dr Rosencrantz helped us to navigate a very challenging infertility struggle and I would not go to any other doctor. He helps you to know all of the options and keeps you involved in the process of designing a protocol that will work for your family. The new facility is beautiful and calming. I highly recommend the team at Reproductive Health and Wellness.
First Patient Consultations with Fertility Expert Dr. Rosencrantz
Your fertility consultation will be with our board certified fertility specialist Dr. Marcus Rosencrantz virtually or in-person. Please call our office at (949) 516-0606 to check for more available appointments. 7PM appointments are Virtual ONLY. We look forward to being part of your fertility journey
*Consults for Southern California residents onlys
We can help grow your family.
When you walk through our fertility centers doors for the first time, you immediately become part of the Reproductive Health and Wellness Center family. You will be warmly greeted by our front staff and after a few minutes of paperwork, you can expect to spend close to an hour with Dr. Rosencrantz who really gets to know his patients. He will go over your medical history and fertility history. The fertility specialist will explain any necessary testing, go over potential treatments options, and review our comprehensive approach to fertility that incorporates reproductive wellness. Dr. Rosencrantz will also take the time to answer any and all questions you might have; at Reproductive Health and Wellness Center, we really want our patients to fully understand the process and be well informed partners in this journey.
The best way to prepare for your fertility consultation is for you (and your partner) to start living a healthy lifestyle. Eating a healthy diet, cut back on any alcohol or caffeine, and definitely quit smoking. Also, we want you to try to reduce your stress levels. Stress will negatively impact fertility so put together a plan for self-care that is realistic and specific for you. If you aren't taking a prenatal vitamin every day, this is the time to start. Finally, if you have had fertility testing or treatment done previously, try to get your medical records so you can bring them to your first appointment.