Male Fertility Nutrition
New studies have shown that a diet low in fat and high in antioxidants can help maintain healthy testosterone levels and even boost sperm counts! We recently wrote about the science behind why these diets can help fertility in our article Low Fat Meals May Boost Male Fertility, but you may be wondering how to go about changing your eating habits and what replacements to include in your diet. A low sperm count is considered to be under 39 million sperm per ejaculation, and although that may seem like a significant amount, a healthy sperm count actually ranges from 50 to 900 million. With so far to travel to reach an egg, a high count is important when it comes to successful conception. Thankfully, we have some nutrition tips for men to help guide you as you and your partner navigate your fertility journey. 
Low-Fat Replacements
Foods high in fat have been shown to decrease testosterone levels, negatively impacting the generation of sperm in a man's body. Foods such as full-fat dairy products, fried food and snacks, many processed meats like bacon, ground beef, hot dogs, beef jerky, canned meat or meat sauces, and high sugar sweets are all culprits of lowering testosterone levels. 
But just because you decide to limit the amount of fatty foods you eat doesn't mean you have to compromise on delicious meals! 
Some low-fat replacements can be leaner fish: tilapia, halibut, cod, and bass are all great options. Tilapia is an especially healthy choice due to it's lower mercury levels and especially low-fat percentage. Fish like salmon, sardines, herring and mackerel, (which are a bit fattier), are okay in moderation due to their high levels of omega-3 fatty acids which will help improve sperm quality and count. A 2019 review discovered that males who experienced infertility, but took omega-3 fatty acid supplements found a surprising improvement in both the mobility of their sperm and the concentration of it, contrasting the subjects who took no omega-3 supplements. 
White meats such as chicken breasts and turkey have little to no saturated fats in them, and are a fantastic option for any dinner or lunch. And you don't have to compromise on flavor for these lower-fat options. For both fish and white meats, a lot of bold flavors can be easily achieved with proper seasoning and cooking techniques. Get creative! Instead of just salt and pepper add a bit of chili powder and garlic to your chicken, or some lemon pepper to your fish. Popping meat on a grill will also help give it a complex flavor without sacrificing your fertility health. 
Fruits and Veggies are Your Friends!
A diet that has a lot of fruits and vegetables is a diet rich in antioxidants, and can have many benefits toward male fertility! Antioxidants include Vitamin E, Vitamin C, Vitamin B, Zinc, lutein, beta-ctyptoxanthin, and beta carotene, which can all help with sperm mobility and health.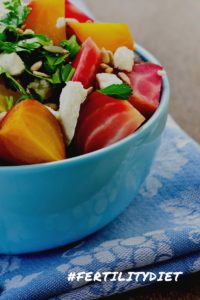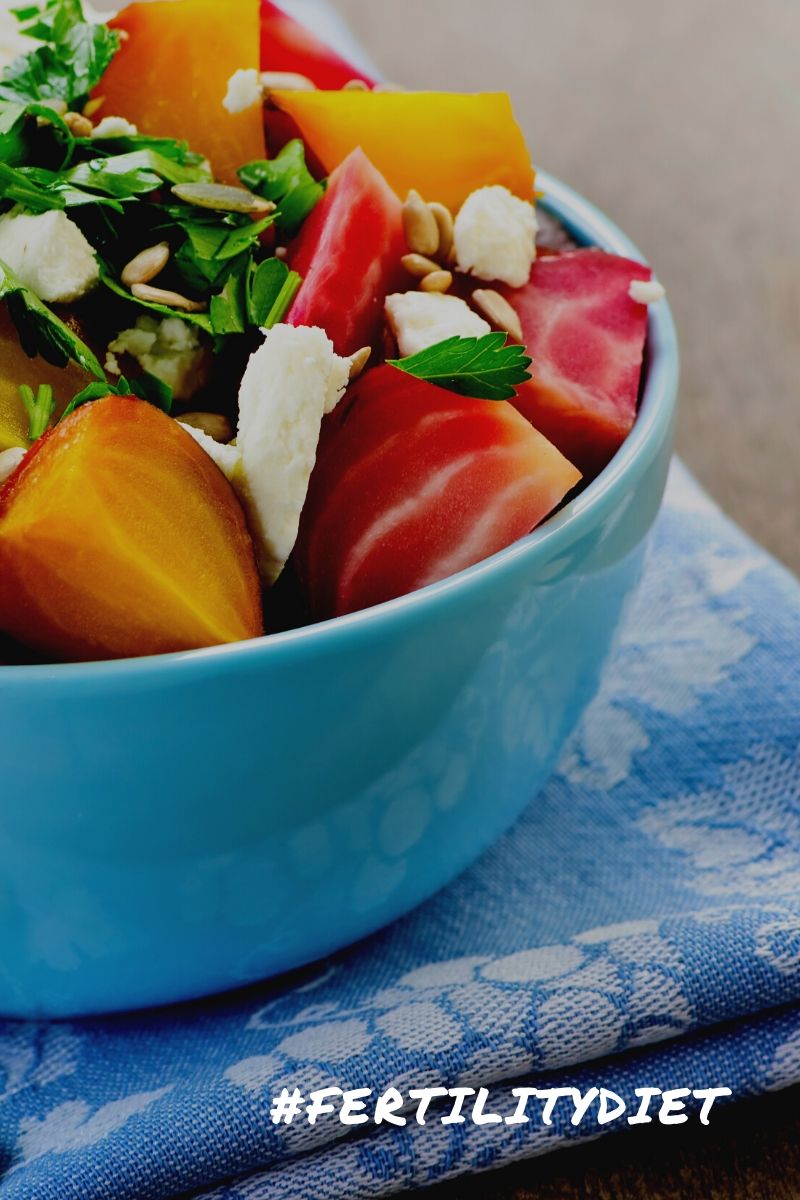 Oranges and pomegranate juice both have high amounts of antioxidants and vitamins in them. The vitamin C found in oranges has been shown to improve not only sperm mobility and count, but also the morphology and overall health of sperm. And the antioxidants in pomegranate juice may help maintain healthy levels of testosterone in men while they are trying to conceive. Foods like cabbage, brussels sprouts, broccoli, tomatoes, sweet yellow peppers, kale, lemons, and kiwis are also high in vitamin C and other nutritious vitamins and minerals. 
Dark, leafy vegetables usually have a high amount of folate, or vitamin B, which contributes to strong, healthy sperm. Spinach, asparagus, romaine lettuce, and kale are all fantastic sources of vitamin B. Sweet potatoes, bananas, and carrots also provide a tasty, natural source of necessary vitamins! 
Both Brazil nuts and pumpkin seeds can also be a good snack that will help boost sperm health! Pumpkin seeds have a high amount of zinc, which may increase testosterone, sperm count and mobility. And Brazil nuts have a high amount of selenium, which can contribute to healthy sperm shape and mobility as well. 
 Stay Hydrated
It's also important to drink lots of water, this will help create healthy seminal fluid and increase the chances of sperm reaching an egg. Instead of drinking caffeinated drinks, which has been linked to increased risks of miscarriage in both men and women, switching to water and natural juices such as orange juice or pomegranate juice can help increase your fertility health.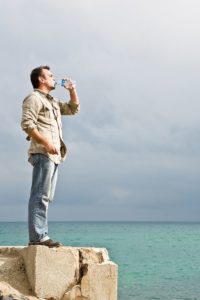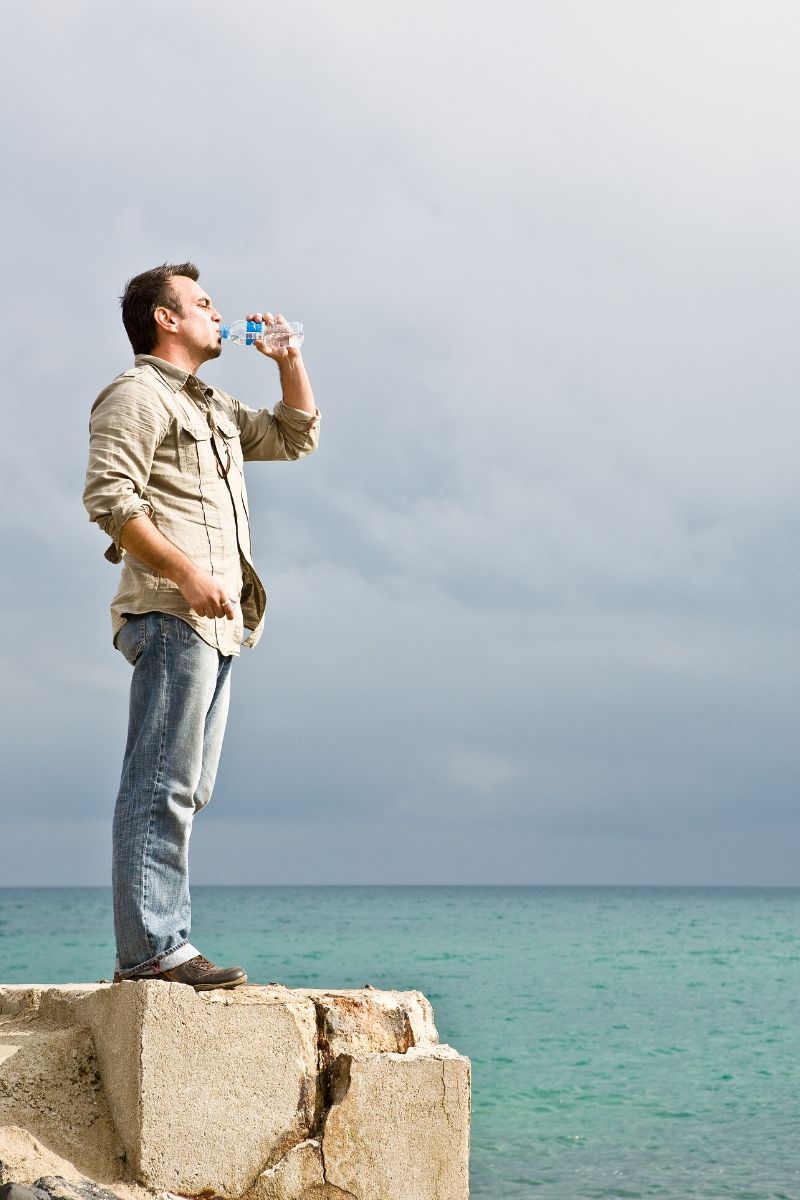 Decreasing your alcohol intake is also beneficial for your fertility, as studies have shown that over 14 mixed drinks per week will actually lower sperm count and testosterone levels. Sperm count can also be negatively impacted by consistent drinking in a short time frame, such as five or more drinks in a two-hour time frame. Cutting back while trying to conceive will give you better chances of starting your family, and once you and your partner have gotten the exciting news, you can both celebrate with a cocktail (and 'mocktail' for your pregnant partner)! 
How We are Here to Help
When navigating fertility issues, having these suggestions is a wonderful place to start as you begin taking the steps you need to boost your chances of conception. But figuring out the right balance for your individual needs is not always easy. Consulting your doctor to find the right diet for you is important. At the Reproductive Health and Wellness Center, we have dedicated fertility diet nutritionists to help you stay on track and maintain great habits to improve your fertility! We provide one on one consultations and guide you with healthy, fertility-boosting meal options that you will enjoy and get excited about trying! We care about not only providing you with the best treatments, but also approaching your care with every aspect of lifestyle and wellness in mind to give you the highest chances of growing your family!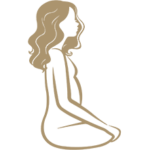 At Reproductive Health and Wellness Center, we are experts at treating fertility issues. We provide the latest in cutting-edge embryo science by using the latest technologies, and we create innovative fertility plans tailored specifically to each individual. But we're so much more.